The Paddi Story: A Brief Introduction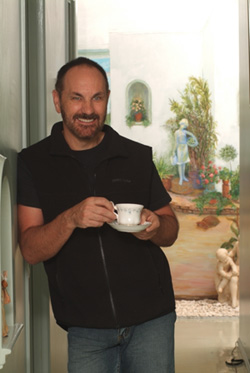 Dr Paddi Lund is the self-confessed "Crazy Dentist" from Queensland, Australia.

"Crazy" because he's doing so many outrageous things in his practice and because his success defies all conventional business paradigms.

He's built a 'By Invitation Only' business that thrives despite the fact that he locked his front door, took down all his signs and removed his name from the phone book!

It's hard to believe he's still in business, let alone hugely successful. And successful he is.

Paddi works only 22 hours a week yet makes 3 times more than the majority of his colleagues.
His team never leave, and his customers are clamouring to buy his services.
But more than that, Paddi loves coming to work and has a rich, fulfilling life as a result.

All this from focussing on just one aspect of business: not marketing nor advertising, his products, services nor even profits ... but HAPPINESS!!! Business Happiness, to be precise!



An Unusual Profession ... for a Business Guru!



It may certainly seem strange that a dentist of all people could offer sound business advice. If you're in the dental industry, you'll already know that dental businesses are like any other professional service practice and live and die by the same principles that govern the rest of commerce.

As you learn more about Paddi's unusual approach (and sometimes controversial - see the part about firing customers!) to common business paradigms, you'll find that you can relate easily to what he's saying ... Dentistry is, after all, universal - in that we have all been to the dentist at some time and most likely have had a bad experience!

Paddi has created one of the most incredible customer service experiences in the world, and let's face it, if he can do it in dentistry, just think what you can do in your profession!



What You'll Learn



In these few pages, you will learn all about Paddi, his focus and the simple business systems that have helped him to build such a successful, happy and profitable business. More importantly, you'll learn the principles Paddi discovered along the way that helped him to create what one business expert describes as, "The most astonishing business on the planet!"

Principles that will work just as well for you as they have for Paddi.

Come with us as we show you how he did it, and how you can learn his best secrets to do the same. Join us on a journey to Business, Happiness and Profits.

Read on to learn exactly what Happiness in Business means...


Paddi's Career

Paddi has been in private practice as a Dentist for over 30 years - many of which he'd like to forget! After graduating as a dentist (just!) from the University of Adelaide, Paddi trained in the UK and was accepted as a Fellow of the College of Surgeons.

Paddi bought his first practice from a retiring dental practitioner in a working class suburb of Brisbane shortly after, and he's been in the same business since - building, growing, learning, going crazy from the stress of it, and finally finding happiness and profits.

Some years ago, Paddi and his story were "discovered" at a marketing bootcamp here in Australia with Jay Abraham, Paul Dunn and Chris Newton. Even at that time, Paddi was moving in some extraordinary directions in regards to his service standards.

He's caught the attention of a host of business experts since that time, and his story (in book or seminar form) has now found its way to more than 60,000 people in 51 countries around the world, with conservatively millions more hearing the tale through the considerable editorial he has attracted, referral from our own clients, plus other business experts marvelling of Paddi's accomplishments with their own audiences.

Hear what other experts have to say about Paddi's unique insights to business...