Contact Us
Our publishing house is located in Brisbane, Queensland, Australia, a small cosy community near the shores of Moreton Bay Southeast of Queensland.

Brisbane has a sub-tropical climate. It is warm and sunny here most of the year. They say about Queensland, "Beautiful one day, perfect the next!" There is always a variety of exotic tropical fruit and delicious seafood readily available.

When you would like to visit with us, we will give you more information about how to find us.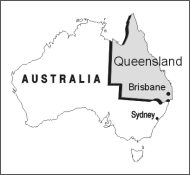 Our postal address is:
| | | | |
| --- | --- | --- | --- |
| | | | Solutions Press |
| | | | PO Box 747 |
| | | | Bulimba, Queensland |
| | | | Australia 4171 |


Write by Email with your comments

We would love to hear from you. Just to say 'hello' or to tell us what you think of what we're trying to do. You can write directly to any of our team ... or we can pass a message to Paddi himself on your behalf if you'd like. Send us an E-mail note at:

Fletcher Potanin
Publisher
fletch@solutionspress.com.au

Dr Paddi Lund
We are happy to pass along any communication, words of encouragement or constructive feedback that you might have to Dr Paddi Lund. Please simply address your comments to any of our team, or specifically to feedback@solutionspress.com.au and your comments will be passed directly to Paddi within a few days. We can't promise that Paddi will reply personally to your note, but he does to many and really enjoys the contact with his readers.

We'll write back to you just as soon as we can. We hope to hear from you soon.