Exciting News of Projects Abroad
The Opportunity of a Lifetime

Working with Clive Woodward, Head Coach of England Rugby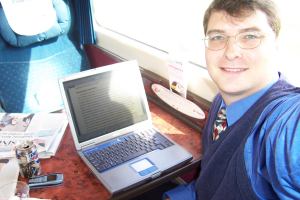 In February of 2004, I had the honour and privilege of being invited to London to work with Clive Woodward, the head coach of the victorious England Rugby union team, for the purpose of helping Clive write his business story, the story of the evolution of the England Rugby organisational setup and England's rise to World Cup glory in November 2003.

Some years ago, well before Clive became head coach, he read Paddi's book "Building the Happiness Centred Business" and began applying some of Paddi's ideas to his finance and leasing business. Upon taking the helm of England Rugby, Clive then applied many of Paddi's ideas to the rugby setup in an effort to make the experience for his players as exceptional and special as Paddi had done for his dental clients.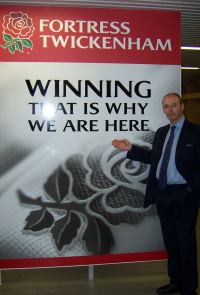 In addition, Paddi's name became synonomous with "Thinking Differently" in the England camp. Paddi's lateral thinking combined with an incredible attention to detail, or verticle thinking, became one of Clive's core business concepts -- ChangeThinking!

With unprecedented access during my three month stay in London to the inner most workings of Clive's management style within the England setup, I was able to draw valuable insights and inferences that helped Clive tell the story of the massive success of the England team in a way that will be hugely relevant and interesting to a broad range of business people and sports fans.

Winning! the story of England's rise to World Cup Glory by Clive Woodward was officially launched on September 13, 2004 in the UK and quickly reached to #2 on the London Times Best Seller list.

You can order your copy from any major on-line or retail bookseller, or alternatively direct from Solutions Press.

In the meantime, learn more about how Paddi's Thinking Differently helped shape Clive's Winning Mindset early in his rugby coaching career in this article.