Happiness AND profits? It's easy when you know how!

Paddi worked long and hard to build his small service business when he was younger. He made a lot of money, yet spent even more than he earned trying to buy back the happiness he'd sacrificed.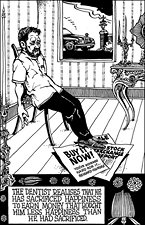 It wasn't long before Paddi's world collapsed in misery.

It was then that Paddi concluded there had to be a better way. After a lot of introspection, deliberation and discussion with his team, Paddi decided that 'happiness' should be the focus of his business -- for himself, his team and his customers. After a few gentle forays in this new direction, Paddi became convinced that he was on the right track.

In a bold move making his convictions public, he even re-named his business to Patrick Lund Dental Happiness and broadcast it to the world:


In his phone book entry (before he took his name out completely, that is!)
On his letterhead, appointment cards and eventually referral cards,
In educational material sent to new clients before their first visit,
In the way the phones were answered - "Good morning / afternoon, Patrick Lund Dental Happiness, this is..."

Fuelled by his early success - a happier team and improving bottom line - Paddi began to cast his different way of thinking to the biggest frustrations in his business. He began looking at these problems from a different point of view - not as necessary evils but as areas he had to make more enjoyable in order to keep going in business.

In the process Paddi was able to create very progressive systems so that the most challenging aspects of his professional service business worked more easily and automatically - areas like selling, team harmony, building expert credibility and attracting new business.

With persistence and very different thinking, Paddi achieved his goal of happiness for the entire business family ... and discovered he made greater profits in the process!

Perhaps the combination of happiness and profits is desirable to you, too?

Thank you so much for sending Paddi's book so promptly. It was a book that I found difficult to put down, I read it in two days! A record for me, I can tell you! I think Paddi's thinking explains what we should all look to achieve through our business. I was 'blown away' with the way you presented it, as well -- the packaging, the personal note and all that made me feel special and valued even though we have never met and thousands of miles separate us. Once again, thank you for Paddi's book and for making me feel special!!!

Steve Dingley
-- Integrated FM Ltd.,
North Warwickshire UK

Paddi's Six Key Frustrations ... Solved!

Deciding NOT to run the conventional business rat race was a defining moment for Paddi. After coming to the new overall goal of a happiness-centred business, Paddi then went on an exciting journey of examining his business from a new perspective ... he identified his biggest frustrations and created systems solutions for each one -- systems that you can now copy and implement in your own business.

Paddi's key frustrations were:

Teams: Infighting, bickering and feuding were eroding productivity.
Credibility: Customers didn't have faith in his expertise and it prevented them from making buying decisions quickly and easily.
Sales: His sales process was long and sometimes difficult and it was suffocating his cashflow.
Service: Customer service was poor and that perceived indifference reflected in customer loyalty.
Money: Customer were slow in paying their bills and a ballooning accounts receivable was giving him ulcers.
Advertising: Conventional advertising and signage was a large investment for unpredictable return

Paddi has identified six areas of business critical to his success, and he has written the detailed story of each business system in turn.




Paddi's journey to happiness in business was certainly an extended one. It's been nearly 15 years since his bout with insanity, and in that time he has completely transformed his practice ... not to mention developed a whole new philosophy of business - he was forging a new path with no one to guide him.

But Paddi's hope is that his years of effort will not be in vain. He is sharing his story and his lessons that others may save themselves the depths of insanity and learn to build prosperous happiness-centred businesses in a fraction of the time it took him. In Paddi's series of six publications you'll discover the power of his simple yet powerful business systems, and why they are essential to your success.

With strong systems developing in each of the areas, Paddi found that his work life had transformed. Gone were the horribly long days, the worry of meeting the end-of-month bills and the chest pain from a never-ending high-stress environment.

Paddi began to make money more easily, because he had the time and energy to focus properly on his services and the people who were buying them. He eventually cut his hours down to a short three days, and now makes much more than he ever did when he worked all the hours God gave. Quite literally, Paddi's new approach gave him back his life! And now his business is the source of great happiness as well as profits.


You can read more about the key areas of business that Paddi focussed on by clicking on the titles below...


I made a decision to enjoy my life at the office some months ago. Soon after that I suddenly began to see your name and story everywhere!

I ordered "Building the Happiness Centred Business". I read it and re-read it and then ordered all your other stuff. I just read "Mobilising..." and have started reading "Building..." to my team. I am so excited! I don't see your way of doing things as just a great marketing tool as much as simply the way it should be done.

The stories are fun, enlightening and pointed. Thanks for the enormous energy you have put into bringing these wonderful solutions to me. Keep it up!

Roy Wrather, DDS
Covington, Tennessee USA


The story of Paddi's journey from 'misery' to 'happiness' in business is encompassed in his first book Building the Happiness Centred Business.

Now you can read all about the rest of the systems Paddi created to make his business extra-ordinarily enjoyable and profitable - by making the key aspects of his service business systematised and simple - in his five additional publications, two practical kits and series of audio and video productions.

In Paddi's series of six publications you'll discover the power of his simple yet powerful business systems, and how they might be essential to your success.

Are you tempted to follow in Paddi's footsteps? Well who wouldn't be!

Now it's time to get started. But what do you do first? Well that's simple.

Learn how best to introduce Paddi's best ideas to your business...